Tag: Dubai
Fly to Europe and Win a Free Upgrade on Flights from Cape Town, Johannesburg or Durban!
Spring into action and head to Europe for Spring with flights from Cape Town, Johannesburg or Durban! With us and Turkish Airlines you are sure to get the best prices to Athens, Amsterdam, Barcelona and many more destinations on their route network!
Book an economy class ticket between 20 March and 2 April 2017 to enter to win a Business Class upgrade! T&C?s Apply.
When can I book: Until 2 April 2017.
When can I travel: From 1 May to 20 June 2017.
Cape Town > Athens = R6,645
Cape Town > Amsterdam = R7,344
Cape Town > Barcelona = R7,821
Cape Town > Zagreb = R7,433
Cape Town > Frankfurt = R8,202
Click here to check flights now!
Turkish Airlines currently flies to 280 destinations in 110 countries. Their main base is Istanbul Ataturk Airport.
Turkish carrier has secondary hubs in:
Esenboga International Airport
Sabiha Golden International Airport
Adnan Menderes Airport.
Top destinations for Turkish Airlines:
London, Doha, Bangkok, Singapore, Kuwait, Dubai, Paris, Cairo, Jeddah, Manchester, Manila, Amman, Bahrain, Istanbul, New York, Perth, Jakarta, Cape Town
---
Looking for Things to do or need a Room, Hostel or Hotel or Car Hire?
---
---

---
---
Why fake it when Cheap-Flights.ws can help you to make it to the stunning cities of Dubai and Abu Dhabi!
Why fake it when you can make it to whichever exciting destination your heart desires! Boy oh boy, do we have great news for you…now not only have we made travel simple and more accessible, it's now also CHEAPER! The only problem we leave on your shoulder is WHERE TO GO? Of course, that will be your next predicament because we have a range of destinations begging to be discovered!
Do yourself a favour and fly somewhere before these deals vanish forever! Stop faking it and start travelling. T&Cs apply.
Stop Faking & Start Travelling!
Why fake it when Cheap-Flights.ws can help you to make it to the stunning cities of Dubai and Abu Dhabi! Wherever you decide to go, we suggest you travel now because these deals won't last long!
When can I book: Until 16th February 2017
When can I travel: Selected dates – deal can be withdrawn at any time!
Johannesburg 
Dubai – 
R5,560
Johannesburg 
Abu Dhabi – 
R5,560
Getting to know EgyptAir
Egyptair's origins date way back, as far as pre-World War 2! Commencing with its first commercial flight in 1933 from Cairo International Airport which has become its hub of operation.
EgyptAir has come a long way in its 83 years of commercial service. Among the countless airlines found today, Egyptair is still able to offer relatively cheap flights to many destinations with dependable flight schedules and a good value for money flight experience.
Recently, to improve its flight connections and on-board flight conditions for travellers, it has joined Star Alliance, the largest airline network in the world.
Did you know? EgyptAir's logo is Horus – the Winged God of the Sun
Book cheap EgyptAir flights with Cheap-Flights today!
Why fly with EgyptAir
EgyptAir has been a member of the Star Alliance since 2008
EgyptAir has been in operation for over 80 years
Winner of Africa's leading Airline – Business Class in 2011 at the World Travel Awards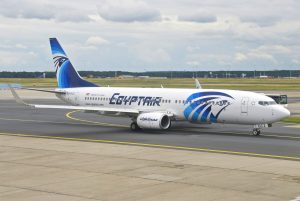 ---